Capabilities
Bringing together over 50 years combined industry experience to deliver unrivalled construction capabilities and Indigenous social outcomes, BYCC Alliance Pty Ltd was formed by an alliance between BY Group and Construction Control to create job opportunities for Indigenous people into the construction industry.
BYCC Alliance offers extensive construction capabilities in commercial and civil construction as well as specific expertise in large scale Government and Defence projects. Safety is of the highest priority to BYCC, we are FSC Accredited & ISO Certified.
Project Delivery
We deliver across a wide range of design engagement and procurement avenues with experience under the various contract delivery vehicles including:
Lump Sum Contract
Managing Contractor
Construction Management
Early Contract Involvement
Design & Construct
Construct Only
We have the appropriate management systems and accreditations to deliver across both Government and Private sector projects and have the ability to manage both green and brownfield sites.
Delivery Management
BYCC have the capability of delivering all the above and the most complex projects in regional and remote locations.
Sectors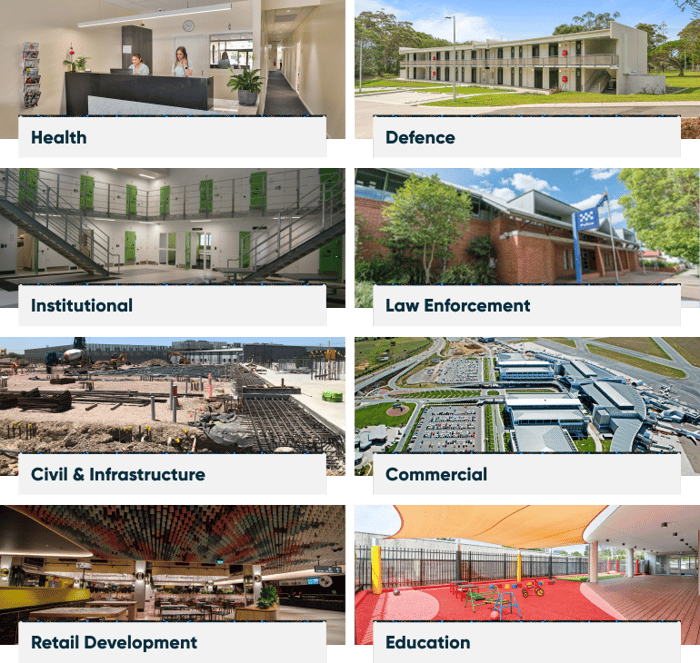 Construction (New Build)
Commercial
Accommodation
Industrial
Retail
Mixed Use
Data Centres
Fitout & Refurbishment
Commercial Office
Base Building Upgrades
Full Refurbishments
Plant and Services Upgrades
BCA Upgrades
ACP Recladding
Heritage Works
Infrastructure & Civil Construction
Utility Diversions
Bulk and Detailed Excavation
Roadworks
Demolition
Structure Packages
Resources and Financial Capacity
BYCC Alliance has a strong resource base with the Head Office in Sydney but a large resource base within the ACT and South Coast of NSW. These locations enable BYCC to resource project teams all across the East Coast of Australia. Having done a substantial amount of remote delivery BYCC is perfect for any metropolitan or regional project. The BYCC financial stability and capacity is backed by years of strong financial control and growth.
Brownfield construction
A key area of experience of the BYCC team will be working within operational 'brown field' sites. This experience is pulled from many years working within secure facilities for the likes of Defence and the Canberra Airport along with extensive Retail Projects. This experience instils expert planning and communication skills within our staff and overall delivery team including our trusted consultants, subcontractors and suppliers.
High security construction
With extensive experience working in secure facilities, all of our construction talent understand the unique requirements of working in a high security environment, and appreciate the importance of professionalism and discretion. Our high security construction projects have included both airside and landside construction within fully operational airports, and various government fit outs.
Breadth & depth
of construction
A strong benefit when engaging with BYCC is the fact that the team has been built upon a diverse range of sectors, clients and construction environments. No mater what the size of project or the difficulty BYCC are up for the challenge. A real key here is open and honest communication with clients and the key project stakeholders.
Social and Indigenous engagement
Driven by a genuine desire to support our Indigenous communities and help Close the Gap, we offer lasting career pathways, skills, and opportunities that allow Aboriginal Australians to grow within the construction industry.
As a Supply Nation registered organisation, we hold true to our values of inclusivity and fairness for all, and dedicate ourselves to bringing about genuine social change. By supporting our home-grown talent with on-the-job training, mentorships, and work experience, we are committed to creating a world in which our Indigenous brothers and sisters can enjoy equal opportunities in Australia.
Government Department and Defence experience
Responsible for projects such as the fit out of the Department of Home Affairs Headquarters, the design and fit out of the Department of Aboriginal Affairs, and the fit out and refurbishment of buildings located at the HMAS Creswell and Albatross, BYCC Alliance boasts an extensive portfolio of large-scale Government and Defence Projects.
With a professional team of Australian construction talent, we are dedicated to delivering quality facilities that are compliant with the Australian Government and Defence sectors requirements.